First Oprah, now thrifty decorating blogs...who can resist the appeal of 'My Favorite Things'? Certainly not me...
320 * Sycamore
is a great decorating blog full of ideas to make things on the cheap, but this weekend she hosted a blog hop with lots of people playing along. Totally seemed like fun, so here goes...my favorite things --- if I won the
Powerball
lottery or married Mr. 66 Million dollar contract (
I wonder which is statistically more probable
)I would buy one of each for each of you until then you'll just have to dream along with me.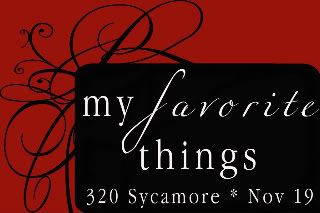 1. Bath and Body Works Lip Gloss...no day is complete without 3,4 or maybe more applications
2.
iPod
Nano
with my favorite songs from this year
3. Glimmer Mists in all the basic colors, not just for scrappy fun, I've used mists on dried flowers, fabric, even a painted tin star. Don't stand still in my craft room, you might get misted too, who couldn't use a little more sparkle in their life?
4. Studio Calico subscription
ok
so this one is really a wish, but I'm betting it would be one of my favorite things if I had it)
Milagro
Tortilla Chips from Whole Foods, just like chips from your
fav
mexican
place...light, flaky, perfect
10. Egg
Nog
Lattes
Darn 10 so fast, can't stop yet...just a few more...
11. Christmas Movies...No Holiday Season is complete without a couple of movies, these are just a few of my favorites
Dansko's
, I bought these beauties at a
charming little shop

Hearne's
in Old Town, Ft. Collins.
And finally because some of you may just have had this little ditty going through your head..
Julie Andrews not your thing...try the vintage jazz god John Coltrane
You Tube is definitely one of my favorite things...
Now it's your turn!